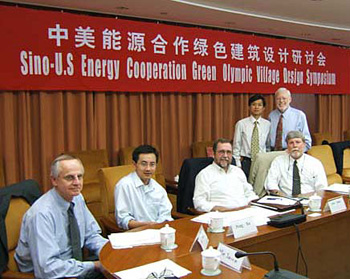 The Chinese & American GEN Affiliates are collaborating through the U.S. Department of Energy (DOE) and the Chinese Ministry of Science and Technology to provide technical assistance to the developer of the Olympic Village for the 2008 Games in Beijing.

China has committed to a "Green" Olympics when it hosts the 2008 Games in Beijing. To help it achieve that goal, the U.S. entered into a protocol with China to provide a framework for collaboration. U.S. DOE led the portion of the protocol dealing with the Olympic Village.

Starting early in 2005, the Affiliate's role included:
Identifying US companies interested in providing goods and services to the Olympic Village's developer;
Participating in organizational meetings in Chicago and Beijing;
Co-leading Expert Teams meetings with the Olympic Village developer and other key Chinese officials to share ideas about the village's design.
Helping U.S. DOE compile specific proposals from US companies and agencies.
The entire report is available at the following link:



Olymic Village Fact Sheet